Be a Monkey's Uncle (or an Alligator's Aunt)
When you ADOPT an Animal at Dakota Zoo
Animals Depend On People Too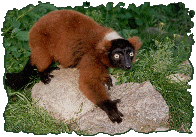 Adopting an animal at the Dakota Zoo for yourself, for a friend or for your classroom is both rewarding and fun.
With more than 600 mammals, birds, reptiles, amphibians, fish and insects to feed, the Dakota Zoo's "grocery bill" totals more than $70,000 a year! Adoptions help to defray the cost of the wide variety of foods that show up on our shopping list.
While some of the food provided to the animals comes in the form of grains and hay, many animals require a special diet formulated just for them. Our carnivores get a specially made, nutritionally complete ground meat diet. Parrots receive a pellet diet that has fruit already mixed in. Monkeys get (you guessed it) monkey chow! And let's not forget our tarantulas and scorpions, who get all the fresh farm-raised crickets they can eat!
Who can ADOPT an animal? You can!
The Dakota Zoo works with other zoos across the country to support species survival breeding programs--especially for endangered animals. Sometimes animals are transferred to other zoo facilities around the country where they will play an important role in breeding programs. And, like all living creatures, animals sometimes become ill or die. If your chosen animal leaves the Zoo for any reason, your gift will be used to support the other animals at the Dakota Zoo. Some Zoo animals are very popular and will have more than one "relative."
All funds received from the Adopt an Animal program go into the general operating fund at the Dakota Zoo and are used to purchase food and contribute to the general care of the animals. All animals remain in the care of the Dakota Zoo, no ownership rights are conferred. Adoption fees are for a one year time period- please contact us to discuss the possibility of a longer adoption term.

When you Adopt an animal, you receive:
A personalized Adopt An Animal certificate--complete with a picture of the animal you have selected.
Your name displayed on the Dakota Zoo's Adoption Center sign.
The satisfaction of knowing that you are helping the Dakota Zoo and making a contribution to the welfare of its many animal residents.

Need a brochure or additional information on adopting an animal?

Click here for a list of animal adoption fees.

Click here for an online adoption form.