Junior Zookeeper Camp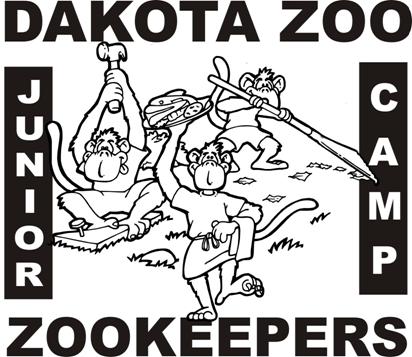 The Dakota Zoo Junior Zookeeper Camps are for children ages 8-12. Camps are designed to teach youngsters about animals and help to develop a caring attitude about nature. It provides a fun, hands-on experience, while giving an in-depth look at the many aspects of zookeeping. Campers work on projects to enrich the lives of zoo residents, go behind the scenes to help prepare diets and learn about animal health care, attend species-specific presentations done by our zookeepers, and much, much more! The various activities will leave participants with a well-rounded knowledge of animals, the role of zoos in wildlife conservation, and the daily duties of a zookeeper...along with plenty of fun, games, and activities to keep the interest level up. Cost is $65 per child for non-members and $60 for members for the five day camp. The two day afternoon camp takes place in the winter, and is $35 per child for non-members and $30 for members. Pre-registration is required at least 7 days before the date of the event, as these popular camps fill up quickly. On-line registration is generally available 30 days before the scheduled camp date. Contact our Education/Volunteer Coordinator at (701) 223-7543 ext. 3 or e-mail educate@dakotazoo.org to register or for more information. Be sure to check the Schedule of Events for the date and times.
If unable to make the class, we will consider it a donation to the zoo. No refunds will be given.
Should zoo camp participants leave early on one or more Zoo Camp days, they will not receive a refund.
We reserve the right to dismiss a child from Zoo Camp who does not meet the Camper requirements, has false information on their registration or health form, or a Camper that continues to misbehave after behavior interventions, without a refund.
In these extremely rare instances, it is the responsibility of the parent/guardian to pick up their child from Zoo Camp immediately.
Registration now open for:
Junior Zookeeper Camp 3 July 5-9, 2021 10:30AM-1:30PM (opens 6/4/2021)
Junior Zookeeper Camp 4 July 19-23, 2021 10:30AM-1:30PM (Opens 6/21/2021)Camp 4 is full 7/13/21
Junior Zookeeper Camp 5 August 2-6, 2021 10:30AM-1:30PM (Opens 7/2/2021) Camp 5 is full 7/13/21